This December I had the honor of participating in the "Quest for the Liberty Bell" through the National Parks Service at Independence Hall. They ran a professional development program where teachers could get a "backstage tour" of the home of the Liberty Bell, and even climb up the bell tower (that's off-limits to the public during normal tours). Knowing my love of history and Philadelphia, you know just how excited I was to attend this event!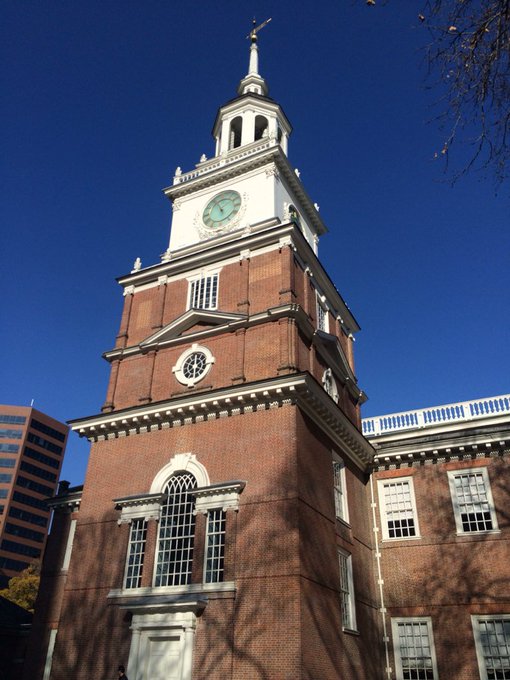 Next year as my students take United States History I, I encourage them to come back to this post, or to come back to ask me about some of the resources that was provided to me. In the meantime, this historic building holds much more relevancy than just for USI history students. I awaited posting about this quest until we were in the flames of the Enlightenment in our World History Curriculum. Remember some of the themes we are learning about:
Although Enlightenment ideas began in France,

the United States was the first country to seriously

implement these ideas.

That unless Enlightenment ideas are used to influence political power,

then it is just "fluff"- it's the application to power and politics that made the Enlightenment "a thing".

The significance of various themes of modern history-

living to one's full potential, the search for truth ,

and the value of being a "polymath", or well rounded individual.

The significance of symbolism and how they reinforce these and other ideas

How history does not exist in subjects- how science, engineering,

history, the arts (and the humanities in general) coexist in every element of society
The first part of the day was in the building where the Liberty Bell is housed. We learned some amazing history about the bell (you can learn some of this in my "Storify" below.) Jeff Collins of the NPS was our tour guide and his knowledge and passion was simply amazing!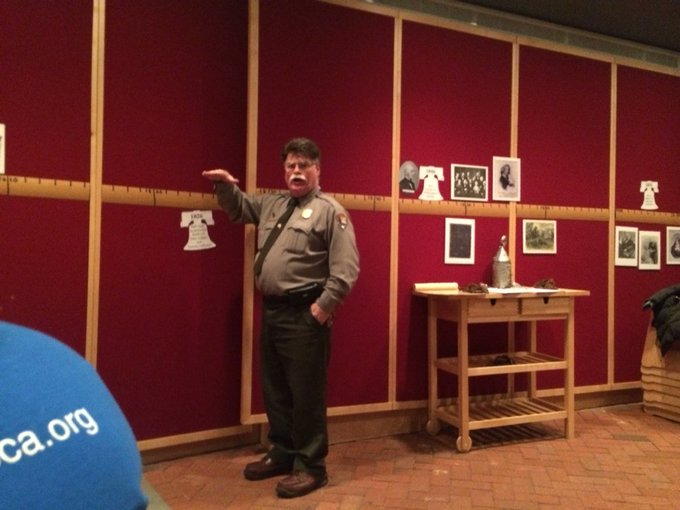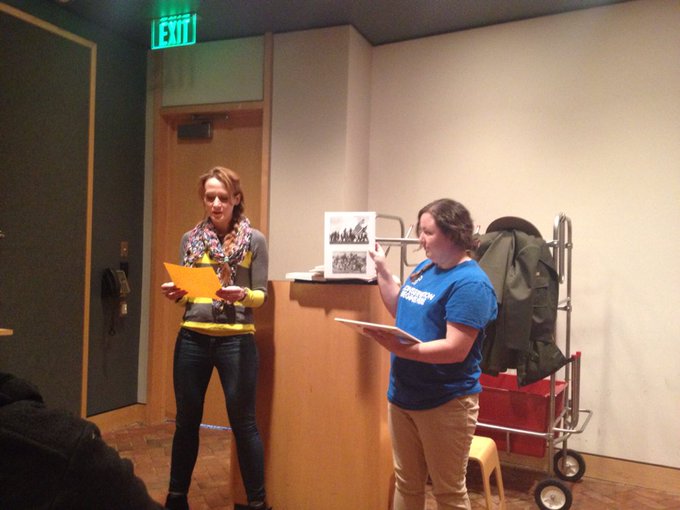 Next, the eight of us paired up and gave presentations on how the Liberty Bell was utilized as a symbol for various civil rights movements throughout our nation's history. There was a large timeline to show what was going on in the "life" of the bell, along with other historic events. (We all know how history teachers love timelines!) Note below the connection to the bell and slavery: we've discussed this year the role of the global slave trade, and the hypocrisy of its existence during "Enlightened politics."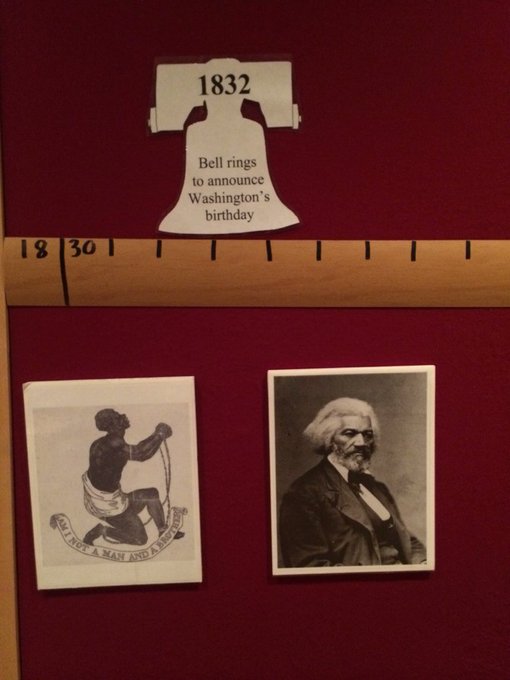 Now I'm sure you can imagine what came next: we saw the Liberty Bell!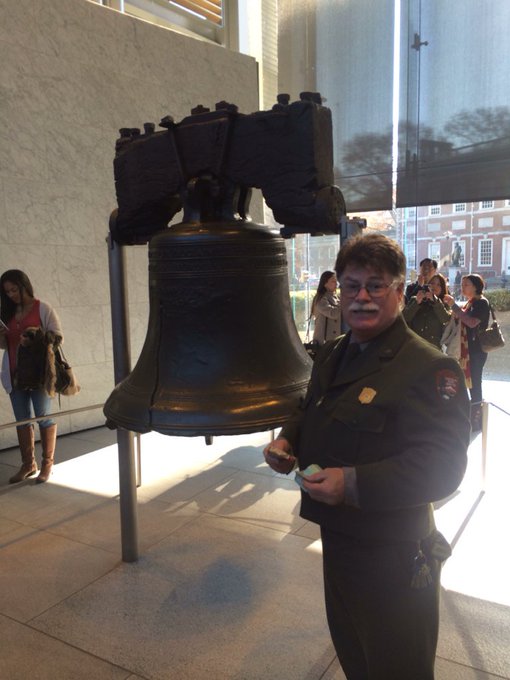 "

This is a worthless piece of metal, it's your belief in what it symbolizes

that makes it worth something."

- Jeffrey Collins, NPS
Next, we went across the street to Independence Hall. My students know that I have been there several times. Heck, we even have a pretend "sun chair" in our classroom! Yet this tour was to be a first for me: we were to climb up the many levels of the bell tower and witness its many wonders!
As a nifty bonus, I received a packet of educational materials, many of which I will share with you throughout the year. However, as you take part in your own quest for the Liberty Bell, I encourage you to check out website for Independence Hall from the National Parks Service:
To see my tweets of the tour, full of facts and pictures (and before my students comment), please view my Storify about the day:
Students: In the comments section, please explain how this quest combined the arts/humanities with science/engineering. I mentioned some ideas above, but please be more specific in your answer. It is essential to view the Storify above in order to complete your response. "A contract" students should mention specific tweets (they are time stamped, so refer to the time.) For an effective answer, this should lead you to conduct some additional research. Look to the NPS website and tweets for inspiration. Feel free to reply on others comments for elaboration (you may discover something about, for example, a clock, that they did not mention!) Please be original in your comments.
In the meantime, I hope this post inspired you to visit this National Park, as well as others. It is my desire that it leads you on your own "Quest For the Liberty Bell," and your own understanding of what it represents.